manufacturing garments – important advice for start-ups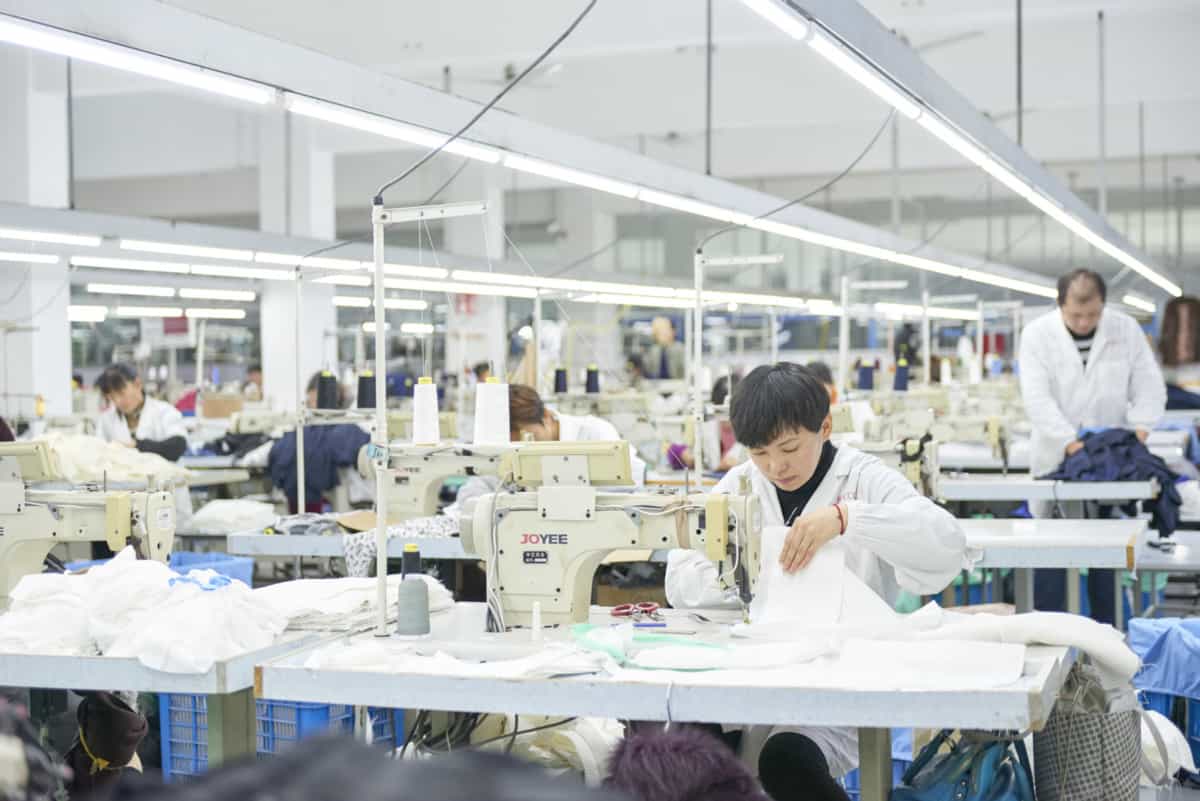 The process of manufacturing garments
If you are an experienced buyer, your are probably familiar with everything below. New buyers and start-ups, please do place close attention to the below if you want your production to be concluded successfully.
1. prepare your tech pack
A tech pack is not complete without sketches, measurement charts, a detailed list of the materials, and fabric samples. Providing your own paper patterns is possible, but not a necessity. If you do not have any qualified team member for making measurement charts, please advise so and our technical department will support you.
2. Find the right manufacturer for you.
Depending on your location you will have a large choice of manufacturers close by or far away. If you decide to have your goods manufactured far away, consider the ordering quantity you plan to do. If you have less than 500 pieces, you may be cheaper off manufacturing at a location close to you. Then consider the type of product you want to do and the fabric it is made out of. Your advantage will be at a location where there is plenty of supply of the fabric you plan to use. Then when choosing the manufacturer, make sure you choose one that is specialized in the product you want to do. You will need the manufacturer's expertise at all times.
3. Manufacturing in China.
If you can meet the minimum ordering quantities, China offers a lot of solutions in the supply of fabric, trims, wet-processing, skilled workers and infra-structure. Communication can be a challenge, since most manufacturers do not have qualified English speaking staff in their export departments. If you do not have Chinese speaking staff, we strongly recommend finding a manufacturer that has good English speaking staff.
4. Quotation.
It is not possible to make a correct price without a proper tech pack. Make sure all your details are very clear and your manufacturer has received a sample of the fabric you would like your quote to be based on. When asking several manufacturers to quote a price for you, you may find that each manufacturer has a different price ranging from low to high. Different prices may be caused by misunderstanding of the details, the manufacturer's experience in the product, the manufacturer's quality level, different understanding of your quality requirements, or the manufacturer's capacity. Check all the details carefully with the manufacturer. Negotiate price, but do not be unreasonable. Consider price/value, not just price.
5. Development.
Once you have reached a price level you seem workable, development will start. This means development of fabrics & trims, and also making the fitting samples. For established brands and retailers, this will be a very prompt process and it is completely free of charge. For start-up companies, most manufacturers will not do any development until they have received your purchase order and deposit. That means you will discuss the ordering quantity with the manufacturer and they will send you a pro-forma invoice and you make a downpayment of 30% on the bulk production. Most manufcaturers are very wary of start-up companies. 99 out of a 100 samples made for start-up companies end up on not getting a purchase order. Therefore most manufacturers will ask for a downpayment on the bulk production before they start. If you are a start-up and need samples to promote your concept, we strongly recommend investing in having a local sewing shop make them for you. It will be much faster and at much better result. Then when you find you do have a market for your product you can send the samples you had made locally to your manufacturer and he can copy them directly. Start-ups that have already tested the market or made pre-orders based on samples make in a local sewing shop have a much better negotiation position with manufacturers to get samples developed before paying a deposit.
6. Approval of materials.
Before purchase, all fabrics and trims will be sent out for approval. Lab dips to confirm fabric colour, hand looms for yarn dyed fabrics, and strike-offs for printed fabrics. Metal eyelets, zippers, cord ends etc. will be submit for approval of colour & quality. When possible, a swatch of the correct fabric will be sent to you for the approval of the quality, hand feel, strength, washability etc. Check this fabric very carefully, or have it tested in case of doubt. Your bulk production will be made in this fabric quality. Your manufacturer will not feel responsible if the fabric turns out to be unfit for your bulk production.
7. Approval of samples.
The first sample you will receive can be considered a fitting sample. It will be made according to your measurements in your requested size. Check all the measuremets with your measurement chart and compare them with the measurement results of your manufacturer. Check the measurements before you try it on. Discuss all differences with how you measure with your manufcaturer very clearly. Do a fitting of the sample on a model which is repersentative of the size the sample is in, for example size Medium. On your first sample do a very through check to see if it's the outlook you like and fitting is comfortable. It's ok to make radical changes on a first fitting sample if it's dissapointing. A first fitting sample is usually in an available fabric, meaning you do not have to approve the colour of the fabric. It could be a colour you don't like, that is because the manufacturer simply doesn't have any fabric in the colour you like for sampling. Pull all the seams to check if they are strong enough. If the sample is in the correct quality, do a consumer wash test to check the outlook after washing.
If your fitting is good, you can advise your manufacturer the measurements are approved so he can calculate how much fabric to order for your bulk production. If you change your measurements later, your manufacturer may be short on fabric, or have excess fabric. He may or may not charge you for this. If your fitting is not good, ask for a follow-up sample and discuss with your manufacturer wether or not your fabric can be ordered. Not ordering your fabric could delay your delivery, but reduce the risk of having fabric shortages. This will be a commercial decision you have to make. Your manufacturer will not be responsible for extra developement time needed to get your fitting right.
On your 2nd fitting sample have a very through look again and compare with your 1st fitting sample to check if you are on the right track. Give your manufacturer the ok to order the fabric when you feel you got it 90% right.
8. Pre-production sample.
When the bulk fabric is ready, the manufacturer will make a sample for you in all the correct materials. This sample is usually called the "pre-production sample" or "PP sample". On this sample you have a final chance for small adjustments as the fabrics haven't been cut yet. Making very big changes on a PP sample is not recommended because you may not have time to see another sample to check if you got it right. Asking for a 2nd PP sample could mean the manufacturer will process another order before your's and you will have to wait for a sewing line to become available. It will be difficult for your manufacturer to give you an indication of the extra time required. He will not feel responsible for the delay of you make big changes on a pre-production sample. Also, you may risk having a shortage of fabric if for example you increase your sizes.
Check the pre-production sample for fabric quality & colours. If it's not the same as the quality & colour you approved, advise your manufacturer immediately. Check if the seam strength is the same as on the fitting sample you approved. Wash it and compare the washing results with the results on your approved sample. If there is a zipper, you could ask your manufacturer to have the zipper tested. Zippers are difficult to test yourself.
Check if your labeling is placed correctly, and check if the packing way is the way you want it packed for bulk production.
Any problems on your pre-production sample you do not mention to the manufacturer are considered "approved". If the sewing way on the pre-production sample is not the strong enough, your manufacturer will consider it is strong enough for you if you haven't mentioned it before production. Be very thorough.
9. Shipment sample.
When your production is ready your manufacturer will send you some ready products for your approval. You compare them with your approved pre-production sample. They should be the same unless you requested changes or improvements. If on your shipment sample you find the fit is not good while it is the same as your pre-production sample, your manufacturer will not have many solutions for improvement as production is more or less finsihed. Same goes for any problems regarding materials. If you find you don't like them but they are already approved on your pre-production sample, there is not much you can do about it. Your manufacturer has already purchased and processed them.
Check the seam strength again and do another washing test to make sure the quality is the same as the pre-production sample.
Notify your manufacturer of any discprencies between the bulk shipment samples and the pre-porduction samples.
10. Tolerance.
Because fabrics & garments are man made by mostly manual labor, there will be differences between what you approved and what the production of a few thousand pieces look like. Prepare for your measurements to be bigger or smaller on some. How big that diffence is can be the subject of heated debate. Many factors will influence this such as the fabric quality, sensitivity of the fabric quality to shrinkage, difficulty of the design, washing methods, transportation time etc.
When reviewing your fitting samples disucss with your manufacturer what the tolerance is he requires. Most manufacturers will ask for 1cm tolerance, but don't be shocked if a manufacturer requests 1.5 or 2cm tolerance. Some items really do need that kind of tolerance. If you feel uncomfortable with the requested tolerance, you can cosnider switching to another manufacturer.
There is also a tolerance on fabric weight and fabric colour. The middle part or the edges of the fabric can be different weights. Different rolls can also be different weights. Consider dye lots. Not all fabrics are dyed at the same time, sometimes there are two or three dyelots with slight differences. Tolerance on fabric is usually discussed by manner of a percentage, for example 5%. Before purchasing bulk materials you can ask your manufacturer what the tolerance percentage is he wants you to accept.
Be cautioned that even though for weight the percentage is easy to measure, for colour it is much harder. What some consider 5% others consider 10%. There is no industrial standard for this, other than very expensive colour scanners most manufacturers do not use. Best advise is if you ask your manufacturer for previous production bulk fabrics and lab dips, for example what they made for their other clients. You can advise based on that wether it is acceptable for you or not.
11. Acceptable quality level.
Many factories in China struggle with understanding the acceptable quality level of their different clients world wide. It is the subject of heated the debate between buyer and manufacturer. One buyer can be satisfied with a manufacturer's goods, while the other buyer is cancelling his order. It's a complex issue. Generally speaking more experienced buyers that have over the years seen a lot of different goods from different manufacturers have a better understanding of what quality level is realistically achievable when manufacturing garments. Inexperienced buyers or start-ups can end up dissapointed when expection perfection. It is also possible for inexperienced buyers to simple overlook alot of issues other buyers consider problems. The only framework there is, is the one establsihed by QC companies. They check based on the AQL standard. That stands for Acceptable Quality Level. The range is from 1.0 to 4.0. The top one being the highest standard. A production free of any defects, not even minor ones. For most factories in the larger manufacturing hubs this is unachievable. Some highly skilled factories in Italy or Japan can guarantee this standard for the expensive brands in the world. The lowest one (4.0) is achievable even in low cost areas in India or Bangladesh. If you can accept this quality standard, you can have a relatively low cost product, but your quality level will be below that of for example H&M.
Low cost retailers generally keep 3.5 or 3.0. Middle market brands generally keep 2.5.
The checking system is a defect count by the quality controller. They count a precentage of stains, holes, loose threads, workmanship issues, etc. In China 2.5 is realistically achievable.
An objective way to discuss quality level with a new manufacturer is to advise them the maximum defect ration you can accept. For example you can advise that no more than 5% of all goods can have defects like oil stains or small holes. It is up to your manufacturer to decide wether he can accept your stadard or not. Generally speaking a factory is used to working at a certain quality level. If a factory mostly does lower standard goods it is not likely they will make your goods at a better standard. Experienced buyers and long time clients generally do get a better result than new clients or inexperienced buyers. A long time client can be something for the manufacturer to cherish and make him work more carfeully. Experienced buyers have better ways of communicating with manufacturers on what's a realistic standard.
12. Are you ready?
Most likely you are in the same situation as the rest of the fashion industry professionals. Manufacturing garments is complex and challenging. If you feel more comfortable working with a party that will guide you through it, then feel free to get in touch. Even though we can't do the job for you, we can greatly facilitate a lot of the procedures. We provide a sense of safety and guarantee. We do not charge for any services. We are just the value added manufacturer and you buy the product from us directly.
Small start-up business that want to order less than 500 pieces per colour, we do not recommend you produce your orders all the way in China. It is not the most cost effective solution for you, and our company does not have the resources to manage a start-up brand.